My sewing, refashioning and upcycling projects revealed
You are currently browsing all posts tagged with bag
I haven't posted for a while so here's some pics of this large bag I made ages ago for my mum.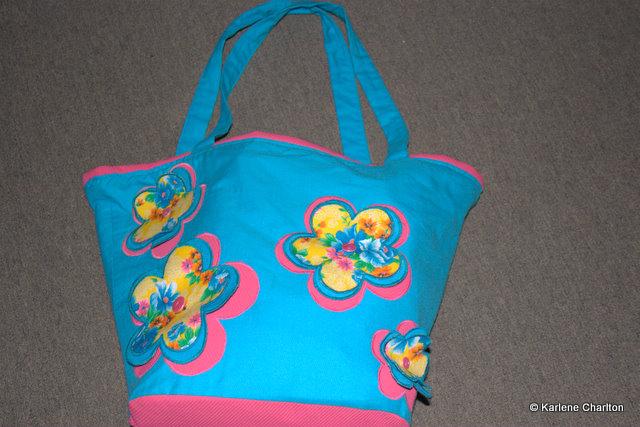 The bag base was originally cut smaller than this. I had a small scrap of floral fabric from Nana's stash that I wanted to use for the flower shapes, utilizing as much of the piece as possible. After building up the layers underneath the flowers grew in size and I knew I would have to re-cut the bag to fit them on without looking all squashed up.
This one is a photo of mum wearing it so you can see the scale.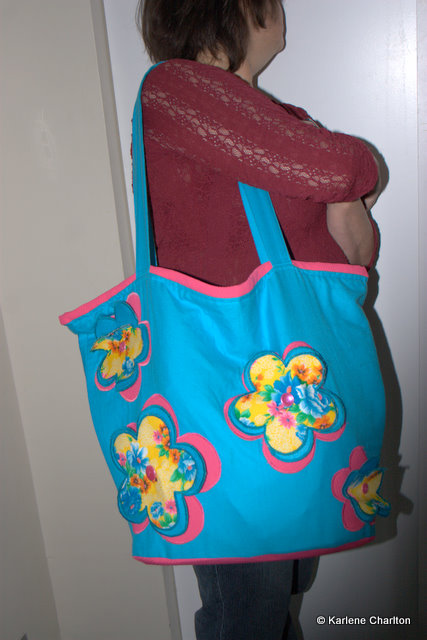 We've had a busy couple of weeks here getting organized to go to our friends wedding last weekend. We had to travel a long way, 7hrs drive to the grandparents, chit chat and drop off kids, next day another 3hrs to where we are staying. Keith is the official photographer and wants to go to the rehearsal which we miss, never mind we still get to go over venue for photo opportunities. Wedding day starts off with bad weather and photographer is worried, but clears up in time for ceremony and turns out great. And he got some lovely photos, good job dear!
Next two days are spent traveling home again, its now 4 days later and we're still not fully unpacked. I have a huge mountain of washing to sort and fold up and the boys are running out of clothes.
Good news, got the bag finished in time to take to the wedding. Well, just, I left off any type of fastening and didn't have time to pin stitch the flap.
I had to sew the lining twice due to doing it wrong way around with interlining on the inside (the wrong side!) the first time, whoops.

My second go

Had lots of fun with the trimmings on the front flap. Stage one, the net over lay.

Next, the ribbon and cord trimming.

Yo yo's

Fabric roses

Then beaded loops and we're done. And the final finished product!

I was careful to get the lining of the flap with the picture up the right way when the bag is open.

Here I am wearing it at the wedding with my matching dress, a birthday gift from Mum.

And a close up of the flap, for those like me who strain their eyes and put their noses to the screen to take in the details,

I love my new little bag, can't wait to take her out again


Have a look at the really big tote bag for the beach/picnicking in the park that I finished last week.
I was so keen to get sewing it that I forgot to take any photo's of what the materials used to look like, which I am now kicking myself for.
The apple print fabric was the skirt part of a little girls dress, I just unpicked it from the top bib part and cut of the side seams. For some reason it was made with the print upside down! This was a bonus for me as it meant it was the right shape I wanted for my bag when turned the right way up.
The red corduroy fabric was from a pair of toddlers overalls that have been in my fabric hoard for years, I think my little brother may have worn them at some stage; obviously not for very long though as they were like new.
The pattern I made for this was fairly basic, just two sides joined together and boxed out at the bottom. I also lined it and put in a little patch pocket, taken straight off the overalls.
Now I'm off to the beach, the weather is lovely here in Auckland…well actually today it's a bit cloudy but it's still very hot.

I am currently in the process of making a handbag to take to a wedding this month. The fabric I'm using is from my Nana's stash, and just happens to be the exact shade of turquoise as the dress I want to wear (a birthday present from my mum, thanks Mum!). For the lining I am using a lovely vintage cotton print that was also in my Nana's stash (thanks Nana!). Some of it was already cut out into a shape that looked like a little girls dress, with button up straps. I had often wondered who Nana was making the dress for, and why it was never finished. When I asked Mum about this and she said she thought it may have been for me. I'm going to smile and think of my Nana every time I open this bag.
So far I have cut all the pieces out and sewed the main pieces together, boxing out the bottom.
During the school holidays I also spent a bit of time making all these little fabric flowers and yo yo's that are going to be stitched on the front flap.

We had a family party last week so it was a good time to give the girls their bags. They had fun trying them on and posing for me while I took photo's, and then they were off playing, pretending to go to their party.
Here is Alyssa with the bag that she designed herself.
Here is her sister, Briana,
And here is the birthday girl, Rylee.
I also got a couple of photos of them going to their "party"

I made this bag for my niece Rylee a little while ago. She just turned six, so when we celebrate I am giving her this along her quilt that I have been working on for the last year. My other nieces will get their bags too.
This one is a slightly shaped tote style bag with a flat oval base.
I used vintage floral cotton from Nana's stash for the outer, and some orange floral/stripey cotton for the lining. I think this fabric was from my mother- in-law who kindly donated me some of her scraps a few years ago.
The flower brooch is made from a vintage floral fabric, I have seen at least two dresses that my Nana made with it. I have always liked the bright colours in it and only managed to get a small scrap, just big enough to make a gathered fabric rose.
I attached the flower to a brooch finding and pinned it around one of the handles. This is so Rylee can move it or use it to close the bag, or wear it if she wants to. Or just take it off if she doesn't like it!

When my 5 year old niece Briana saw her sister designing a bag to be made by me, of course she wanted one too. Her design was not as detailed as Alyssa's, but she was very certain that it was to be pink. The drawing she did was hard to see so I haven't posted it. She said "I want it a pink square bag, with one handle and lots of flowers like Nan's (referring to a bag I made for my Mother), all pink".
I just so happened to have a pinkish denim skirt with a ruffled hem that I got from an op shop with the intention of turning it into skirt, so I used that as the base and rifled through my scrap stash – I keep everything – for pink bits for the flowers.
Here is the finished bag.
I cut out 2 rectangle shapes as big as I could fit into the skirt panels, sorry I didn't take any before pics

it was a straight paneled skirt with a shaped hem.
I stitched these together and boxed out the bottom by sewing a triangle across the the corners ( I promise to take lots of pictures next time and do a tutorial!) and used the ruffle on the hem to trim the top edge.
I used the reverse side of the skirt fabric to cut 3 of the applique flower shapes and some pink cotton to do the other 3. For the floating flowers, I made 3 from floral cotton scraps and 3 from very special pink taffeta lining and pink floral nylon scraps, saved from a dress that my Nana made and wore to a wedding. I stitched beads in the centre to secure the flowers, this is the same technique I used on my denim jeans skirt.
I cut the strap as long as I could get it but it was still a little short, so I lengthened it by adding two strips to each end in lieu of a D ring. This left a funny looking gap. As I was wondering what I could do to fix this, I saw some pink and purple feathers in my pile of 'pink stuff' and remembered something Gok had done to a bag with feathers and beads. Ah ha!
I stitched the feathers to the back of the strap and used a hot glue gun to secure them properly, with a piece of ribbon over the top to look pretty. Glue is pretty ugly even on the back of something. Then I added some beads on the front side.

My seven year old niece Alyssa asked her mum if she would help her to sew a bag with her sewing kit. I asked her if she would like me to make one for her, of her design. She looked up at me with big round eyes and said "Can you make bags Aunty Karlene?". I replied that yes I could, and showed her the bag I was using that day, that I had made. She had a look, got very excited and announced that she would draw a picture of her bag design right away.
Her is her drawing, complete with detailed design brief:


She wanted a round blue bag, with two handles, red on the top, a green button, a pink bow surrounded by black dots, "a real one, you can make the bow and then sew it on, Aunty Karlene" and a purple letter A for Alyssa. Wow! You can also see her first drawing of a more square bag that got crossed out when she changed her mind. This girl knows exactly what she wants.
I followed her design as much as possible and here is the result:


I used blue denim for the base and red velveteen for a flap. I wanted to use black sequins for the "dots" but do you think I could find any? After an hour of hunting in the sewing room and house, I decided to use beads instead. I used zig-zag stitch to sew on the purple ribbon to make the A, and managed to find a green button in my stash that looked ok with the other design elements.
I hope she likes it!
Her younger sister Briana also wanted a bag, more details on that soon.

Here is a picture of the first attempt I made for a "Mummy" bag for Raewyn.
I wasn't too happy about the way the handles were attached, but I also didn't want them in the zip seam so I ended up doing another one for Raewyn.
The fabric for this one (cotton) was again from my nana's stash, the floral outer fabric had been made into a skirt that looked a little crooked so I knew she wouldn't mind me pulling it apart to re-use.
The inside has a large pocket stitched on one side and a smaller cellphone pocket on the other.

My good friend Raewyn needed a mummy bag for nappies and other mum stuff that didn't look like a mummy bag.
Here she is modeling the bag I made her.

And because little girls like bags too, I made one for her little girl as well.
They had lots of fun modeling their new bags on the "catwalk" seat so we could get some photos…

And I also made one for the baby girl just turned one.  She was so tired at her party she was having a sleep when we took the photos, so here it is on the dress stand.

Here is a closer look of Raewyn's, and the inside, showing the zip pocket and cellphone pocket.