I took the wardrobe refashion pledge – for life!
Posted on 08 March 2010
After a a four month pledge and then a little break I have decided to take the plunge and sign on for LIFE, yay!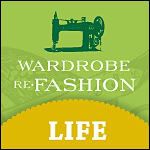 The Pledge
I _Karlene_ pledge that I shall abstain from the purchase of "new" manufactured items of clothing, for life. I pledge that i shall refashion, renovate, recycle preloved items for myself with my own hands in fabric, yarn or other medium for the term of my contract. I pledge that I will share the love and post a photo of my refashioned, renovated, recycled, crafted or created item of clothing on the Wardrobe Refashion blog, so that others may share the joy that thy thriftiness brings! Signed_K. Charlton_.
I didn't find it hard at all to avoid buying new clothes. What was hard was trying to have something to post every week! Now I'm committed.