My sewing, refashioning and upcycling projects revealed
You are currently browsing all posts tagged with stitch
Thanks to my husband Keith, I got some lovely shots of the finished fairy style dresses I made.
This one I am wearing is the one I wrote about in my last post , made from denim scrap from some jeans and other bits and pieces. It took me a long time to finish, as I got quite frustrated with the whole thing a few times, then it finally came together the way I wanted.
The skirt is made up of different layers using strips of tricot and tulle on the bottom, some tea dyed broderie anglaise cotton from an old skirt, strips of vintage spotted net and some ripped up pieces of an old blouse, and then the patchwork bustle layer on top. The bodice is cut from the bottom half of a pair of jeans (the top got made into a skirt) with patchy bits here and there, and mock lace-up inserts on the front.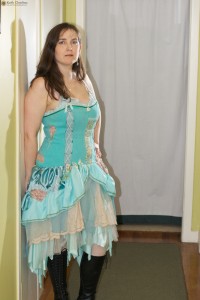 I have more close-up pics of the details in my last post, and of the bodice and construction of the first layer here.
Coming soon, pictures of the other dress.

The dress, as is, on my dress stand.
A bit lopsided but there is a reason as you will see…
I'm pleased with how this is turning out, there is just one little thing I have to change, the top part of the "petticoat" lining layer is sitting too high. It's kind of hard to tell on her, but on my body it looks a little weird and needs to be lowered a bit.
I'm either going to pull all the lace off the top and cut away the excess fabric, or pin and pinch it down like this and hand stitch the folds.
It was err, interesting sewing the bustle layer. When I first started I had a rough Idea of what I wanted it to look like but was getting very frustrated when it wasn't happening. I spend a long time (and I mean LONG, like days and days) thinking about how all the edges were going to be finished, how it was all going to be joined together, and how I could get lots of random scrappy bits sewn on in the right place until I felt like pulling my hair out!
I cut out the rough shape in the same cotton as the skirt base and added the ruffle around the edge with the dark green rick-rack trim, then decided I was just over thinking the whole thing and needed to let go and just sew sew sew. So… I grabbed some fabric scrap I liked, plonked it on, grabbed a bit of ribbon, slid them all into the sewing machine in a haphazard fashion and stitched away, and hey presto it worked!
I continued in this way until the the bustle piece was covered and looking just how i wanted it.
The pieces that I melted were used here under the bustle layer to add more texture and ruffly bits to the skirt.
Finishing the back was also giving me a bit of headache, this is how it turned out,
I made the zip visible as a design feature and added some fancy machine stitching along the edge. Have decided that the uneven height on the bodice panels and lace at top is also a "design feature"


Sometimes I get very emotionally attached to clothing, and found it difficult to get rid of my son's baby clothes. I decided to use all my favorite ones to make him a special patchwork blanket/quilt after child number two had outgrown the ones he was able to wear as well (one summer baby and one winter, so not much clothes sharing from size 000-1) and then give away the rest.  I also kept aside my favorites of number two, he had some adorable little outfits

This was my first ever attempt at doing a quilt of any kind, so I was a bit unsure to start with. I did a bit of research online to see what others has done and came to a grinding halt. Although there was plenty of information about "normal" quilting,  there was very little about using baby clothes and I was completely uninspired by the T-shirt quilts, so I had to fudge my way through it.
I started off by studying the clothes, looking at the size and shape of any pictures or text on them to determine how big to cut the squares and also how big the blocks would have be to get the right size to cover the bed…yes, there was an awful lot of thinking involved this process!
Once I knew what I was doing (ha!) I cut up the clothes (scary!) into squares slightly bigger than needed and then ironed on squares of fusible interfacing onto the ones in knit fabric for stability and to avoid stretching. This was quite a long process. I then used a template to cut to the correct size, trying to centre any detail where possible.
Then it was the fun part of sorting them into blocks, stitching up (another long process) and arranging the blocks into some kind of pattern…yes, there was a lot of sorting, thinking and rearranging during this process too.
Once the piecing was done I made a quilt "sandwich" using some navy wincyette for the backing, and a layer of old fleece/sweatshirt fabric I had in my stash for the batting (I wanted something light – and really cheap). I tried to machine stitch around the blocks but the the wincyette fabric proved to be very unstable and kept moving and puckering all over the place. In the end I had to to quilt the whole thing by hand. Yes it took a long time.  Luckily this was something I could do in front of the TV at night. I just stitched around the squares, didn't bother doing anything fancy.
I'm glad to say when it was finally finished Ewan thought it was just great. The first thing he did was get out his little toy cars and drive them along the sashing "roads"

How cute.
I am currently doing a quilt like this for my niece. I had her clothes sitting around for about two or three years, and got started on it properly nine months ago. Like I said, its a long, slow process! I am in the hand quilting stage at the moment and will post some pictures when it's finished.
Here are some close up details of Ewan's quilt: