My sewing, refashioning and upcycling projects revealed
You are currently browsing all posts tagged with skirt
I've been wanting to have a go at dyeing with tea for a while now.
I had an old white cotton skirt with a broderie anglaise hem that I wanted to incorporate into my current project (using up the pant legs from the green jeans) and needed to be less, well, white!
I also wanted to try it on this cream rayon dress mum gave me with cool embroidery details
and a vintage (gulp) wool cardigan that had become yellow with age to see a) if it would work on rayon and wool, and b) what colour would cream go in a tea bath?
I boiled a big pot of water and then added LOTS of old tea bags, most of which had been sitting around in the kitchen for years as we drink coffee!
I let the tea brew for an hour or so and then removed all the teabags – or so I thought!
The pot wasn't big enough for all three garments at once so I soaked them one at a time. The cotton skirt was first, I left it in for about two hours giving a stir every now and then, and took it out for a rinse.
I left the rayon dress for a bit longer, as supposedly it it harder to dye. The great thing about a tea bath is that you can use the same liquid over again. I put the wool cardigan in last and left it over night (about ten hours) as I wanted to see how brown it would go.
Unfortunately, when I took it out the next morning it was very blotchy. It was a lovely caramel brown colour, but blotchy. I couldn't understand how this happened when the other two were fine? Was it because it didn't get stirred?
When I emptied the pot of tea I discovered the problem. Teabags still at the bottom of the pot! Arrrgg! If you want a nice even colour, take out ALL the teabags first! And give it a stir now and then.
I also gave the garments a spin in the dryer to "set" the dye, hence the slight shrinkage of the cardigan. I'm not too worried about it as I was planning to try and felt it anyway.
Here's my after shots of the skirt and dress:
They came out a kind of pinky brown colour, they look a bit washed out in these photo's, you can see a more true representation of the colour in this one:
Now it works better with the other fabrics I'm using.

I started with a pair of slightly faded green jeans, then made them into a skirt like this.
It was a bit plain so I decided to add some patchwork applique and lace
My favourite so far!
If you look at the back of the waistband you can see the original colour where I've pulled the tag off. It's now more of a turquoise green.
I am using the cut off pieces from the legs for another project which will be revealed soon.

Remember all those frilly girly things I made for my nieces for Christmas? Well, I finally got some pictures of them all wearing the outfits. At Easter! The sun was very bright which is why some of the expressions are not very fairy princess like

Here is Alyssa who is wearing a beaded necklace I made for her a few years ago and had completely forgotten about:

Next Rylee, squinting very badly, she was having a good time, honest!

And lastly Briana. Her bag is from an op shop, I re-covered the back. I love the fact that she is wearing tattoos on her arms LOL, drawn on by her dad.

The tops they are wearing are all bought from op shops and inspired the rest of the outfits. Alyssa's one is a bit see through so she is wearing a T-shirt underneath with a butterfly print. Pretty!

I had some comments recently from Cathy McGregor from Napier who sent me some lovely pictures of the fairy skirts she has made for her granddaughters from old scarves.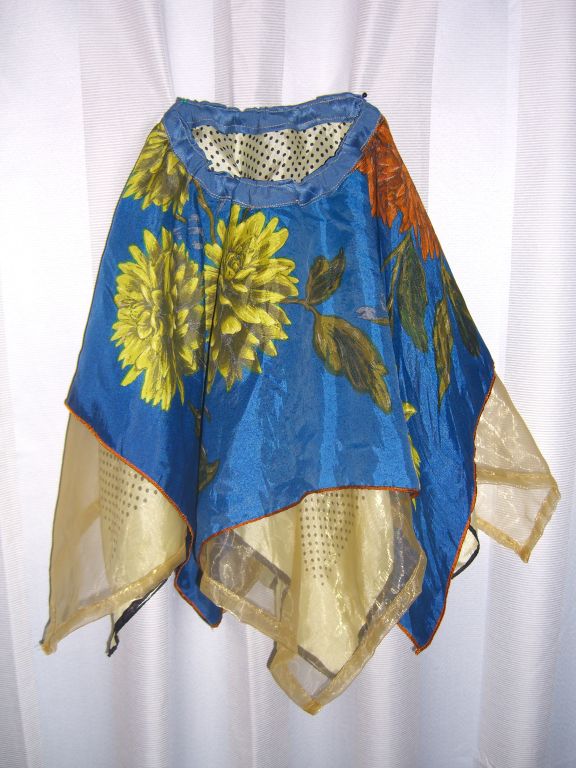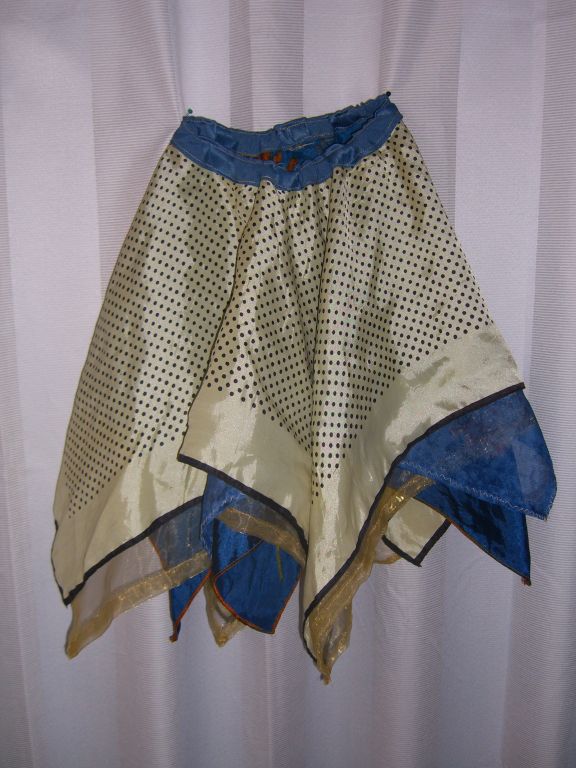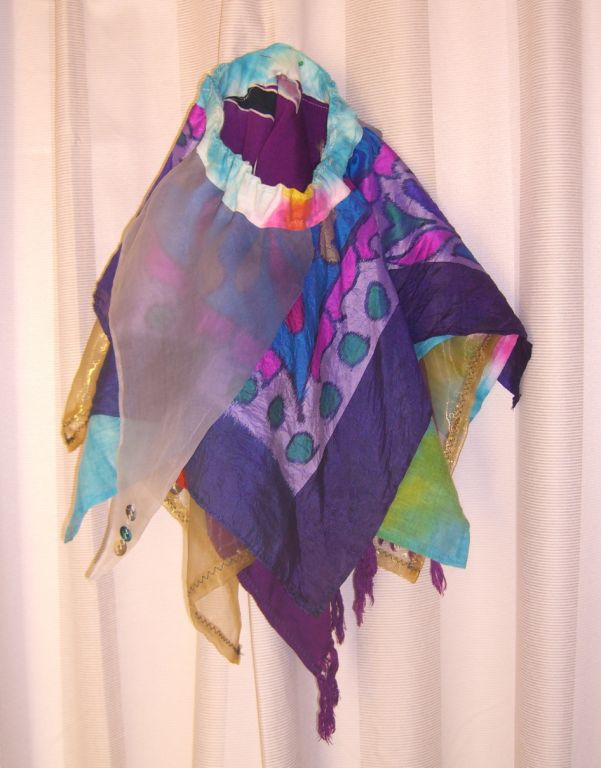 The gold coloured organza fabric which is used in both skirts is from a wrap/stole she made for a wedding, and the spotted lemon scarf was her mothers.
The pale blue narrow strips with sequins added to the ends, is from a scarf/large bow previously attached to a 1950's hat of her aunts.
As well as scarves, she is also using her collection of sarongs to make the skirts. Thanks for sharing these cool ideas Cathy, I will be looking out for scarves and things from op shops myself in future!
Some more tips from Cathy:
Firmly tack the inner circle (waist) before cutting around the template when using slippery fabrics.
Use bias cut strips to make the casing.
Have a look at my fairy skirt tutorial for more details on how to make this style of skirt.

We've been very busy this week, today was the first I have been able to get any sewing done. I was very pleased to get this fairy skirt finished this morning. It's to go with the fairy wings in my last post.

I have used lots of layers of different fabrics cut into triangle or square shapes, overlapping at the waist, with a few lengths of ribbon to finish it off.
The main fabric is from an old silk skirt from my mum. I love it when Mum's have clean outs!
The pale blue bits are from the lining of the skirt and the deep blue and turquoise tulle is the same as I used for the wings.
I have used some light turquoise/blue fine cotton to line it.
I didn't want any gaps in the lining, but still wanted the shape and fullness of the outer layer, so what I did was cut two large squares, cut holes in the middle like I did for my first fairy skirt, then cut up the middle of each. I then joined the two together (the circle bits) to make one very full skirt layer with eight points. If you look carefully you can see one of the two seams where I joined them together.
This was the first time I tried this technique and I really like how it turned out. In fact I wish I done the same thing to the outer layer!
Will have to do some more skirts that way in the future.

The post about my jeans skirt has had a lot of interest so I decided to do a basic tutorial for the jeans to skirt transformation.
This idea is not a new one and there are plenty of tuts and varying methods, this is the way I do it.
Take an old pair of old jeans that you can still fit at the waist but don't wear anymore, because of worn knees for example.

Cut about 2-3cm longer than you want the length of skirt to be. You need to allow for a hem if you are having one and a bit extra for realigning the edge.
This one I cut even shorter after I took the photo as I am going to put a ruffle on the bottom.

Unpick leg seams and about half the crotch seams, to where the seam straightens out.

Open and lay the flaps over each other, pin.
Open cut off leg piece,

insert under opening and pin together.

Sew the insert stitching in the centre of the original seam allowance, and zig zag the cut edges if you want.

This is what it will look like underneath

Cut away the excess up to 1cm away from the seam.

I like to put an extra row of zig zag stitch where the original seam was, one, to reinforce if this area is worn, and two, to stop the underneath insert panel edge from fraying.
Do the same with the back.
Hem the skirt if you want, or leave to fray.
I decided to add a frill on the bottom.
I joined strips of leftover denim to make a large circle, almost twice the width of the skirt's bottom edge.

I added some gathered tulle and a strip of floral printed cotton to the denim strip and attached to to the bottom of the skirt, gathering as I went.
This is the finished result:

Here's another one I prepared earlier. This one has a double row of stitching at the hem so it doesn't fray too far. It will look more "raggy" after a wash and tumble dry.


Note the zig zag stitching on the overlap. The fabric had worn thin on this pair and it needed some reinforcement. I also put a patch underneath on the back


For my next "princess" skirt for the nieces I made this ruffled one from a Barbie print curtain that my mother-in-law gave me.
The curtain looked brand new, it was from the in-laws new house in the bedroom that our boys sleep in when we stay, and has now been replaced. I just knew it would make an awesome fairy princess skirt.
I'm not saying which niece is getting this one but if any of my family are reading this they can probably guess. Shh!
It is made from three circular layers of different lengths, with gathered tulle strips sewn on the lining layers. "What?" you say, just like this:
I made a circular skirt pattern for the longest layer and marked the two shorter ones on it, then cut them all out.
This is what the cut pieces looked like:
Then I did the same with the lining layers. Yip, this skirt has six layers, which makes it very interesting to sew on elastic for the waist but more about that later.
I've been storing some pink tulle in my stash for years, waiting for a project just like this to use it all up. The tulle was strip cut into pieces then gathered into a ruffle.
I sewed the ruffled tulle strips onto each layer so the edge was aligned with the hem. For the hems I just used a zig-zag stitch, I really couldn't face properly hemming all that fabric! This picture shows the top layer with the ruffle stitched on.
I had to put this picture in because I just loved how the skirt layers looked on top of one another. For some reason it makes me think of a giant wedding cake!
Then came the elastic. I knew I would have a real problem trying to sew through 12 layers if I just folded the top over, so I joined the outer and the lining first, slipped the elastic on, then stitched a casing seam under the elastic to hold it up. Hope this makes sense, it is quite hard to explain.
All done. This is my favorite picture, the angle shows off the layers nicely.
Now I just have to make some kind of flower circlet headdress thing.

My Mum gave me this dress when she was clearing out her wardrobe.
It has two layers, the top is a lovely lace patterned tulle with a bordered hem. I decided to make it into a princess/dress-up style skirt for my niece.
In the spirit of wardrobe refashion and anti consumption we are trying to have a less commercial Christmas this year by avoiding buying our gifts retail, ie we want to make them or buy slightly used, or just be really original. So all my nieces will be getting some girly princess/fairy outfits made by me. To my family if you are reading this, please don't spoil the surprise!
Here's what I did:
1. Measured the length I needed plus seam allowance for the top to turn over the elastic.
2. Marked with chalk and cut.
3. Repeated steps 1 and 2 for the underneath layer.
4. Zig-zag stitched the layers together at the top edge, then folded it over a loop of elastic (cut to the waist measurement and joined together) and stitched down.
Easy!
I'm going to use the top half of the dress to make a ruffled wrap.

This is how I recycled an old dressing gown into a swirly dancing skirt.

The easy option here would have been to make a straight skirt, or a paneled skirt with flare at the hem, but I really like the way checks look cut on the bias in a circular skirt. And it's going to be worn over a frilly square dancing petticoat. Obviously there was not enough fabric in the dressing gown to make a full circle skirt, so I just made it as 'circular' as possible with bias front and back, and whatever I could get out for the sides.
First I dug out my circular skirt pattern and checked the measurements. They are fairly easy to make, similar technique to the fairy skirt.
Here's my circular skirt pattern tutorial:
1. Take your waist measurement. This will be the circumference.
2. Divide this number by 6.28 to get the radius.
3. Get a large square piece of paper or card. Starting from a corner, use the radius measurement to mark out a 1/4 circle. This is the waistline.
4. Decide how long you want the skirt to be. Using a metre rule, measure this distance from the waist to mark a large 1/4 circle.
5. All done! This will give you a 1/4 circle "block" pattern piece (without seams/hem). Cut 4 panels for a full circle skirt, with one panel on the fold if you want to get rid of a seam.
Remember to add seam allowances and hem allowance before you cut out fabric!
This will be fitted at the waist and will need a zip or button opening. If you want to make an elasticated pull-on version, then use your hip measurement for the circumference.
Back to my barn dance skirt. I laid the dressing gown as flat as possible and marked out two panels from the back, with the centre of the pattern lying on the true bias, as wide as I could get them at the hem with seam allowances. These panels become the centre front and back.

The next step was the side panels. I put the pattern on the front panels of the dressing gown, this time with the centre lying on the straight grain of the fabric, and again marked the shape as wide as I could.

I then stitched up the side panels, leaving an opening on a side/back seam for the opening.

The belt that came with the dressing gown was about the right width for a waistband so I took the easy way out and stitched it straight on, leaving a few cm at on end for the button wrap.

I tucked in the raw edges where they were cut before sewing.

Last step before hemming is to hang it up for a while to let it "drop", as the bias bits usually stretch and spread a bit more than the straight bits. I will post another picture of me wearing it when it is finished and hemmed.