My sewing, refashioning and upcycling projects revealed
You are currently browsing all posts tagged with refashion
This is another dress we used in a recent photo shoot, beautifully modeled by my lovely sister.
The skirt is made from vintage fabrics and lace. The larger pieces of fabric in the skirt are square shapes, with one corner rounded off in a similar way that circular skirts are cut. Putting many pieces together like this makes the skirt very full and swirly.
The bodice is made using fabric cut from another skirt I shortened.
Front and back has hand made fabric roses from from vintage fabrics, trimmed with ribbon, lace and vintage braid.

I started with a pair of slightly faded green jeans, then made them into a skirt like this.
It was a bit plain so I decided to add some patchwork applique and lace
My favourite so far!
If you look at the back of the waistband you can see the original colour where I've pulled the tag off. It's now more of a turquoise green.
I am using the cut off pieces from the legs for another project which will be revealed soon.

After a a four month pledge and then a little break I have decided to take the plunge and sign on for LIFE, yay!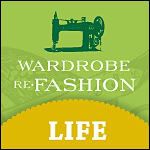 The Pledge
I _Karlene_ pledge that I shall abstain from the purchase of "new" manufactured items of clothing, for life. I pledge that i shall refashion, renovate, recycle preloved items for myself with my own hands in fabric, yarn or other medium for the term of my contract. I pledge that I will share the love and post a photo of my refashioned, renovated, recycled, crafted or created item of clothing on the Wardrobe Refashion blog, so that others may share the joy that thy thriftiness brings! Signed_K. Charlton_.
I didn't find it hard at all to avoid buying new clothes. What was hard was trying to have something to post every week! Now I'm committed.

Have a look at the really big tote bag for the beach/picnicking in the park that I finished last week.
I was so keen to get sewing it that I forgot to take any photo's of what the materials used to look like, which I am now kicking myself for.
The apple print fabric was the skirt part of a little girls dress, I just unpicked it from the top bib part and cut of the side seams. For some reason it was made with the print upside down! This was a bonus for me as it meant it was the right shape I wanted for my bag when turned the right way up.
The red corduroy fabric was from a pair of toddlers overalls that have been in my fabric hoard for years, I think my little brother may have worn them at some stage; obviously not for very long though as they were like new.
The pattern I made for this was fairly basic, just two sides joined together and boxed out at the bottom. I also lined it and put in a little patch pocket, taken straight off the overalls.
Now I'm off to the beach, the weather is lovely here in Auckland…well actually today it's a bit cloudy but it's still very hot.

The post about my jeans skirt has had a lot of interest so I decided to do a basic tutorial for the jeans to skirt transformation.
This idea is not a new one and there are plenty of tuts and varying methods, this is the way I do it.
Take an old pair of old jeans that you can still fit at the waist but don't wear anymore, because of worn knees for example.

Cut about 2-3cm longer than you want the length of skirt to be. You need to allow for a hem if you are having one and a bit extra for realigning the edge.
This one I cut even shorter after I took the photo as I am going to put a ruffle on the bottom.

Unpick leg seams and about half the crotch seams, to where the seam straightens out.

Open and lay the flaps over each other, pin.
Open cut off leg piece,

insert under opening and pin together.

Sew the insert stitching in the centre of the original seam allowance, and zig zag the cut edges if you want.

This is what it will look like underneath

Cut away the excess up to 1cm away from the seam.

I like to put an extra row of zig zag stitch where the original seam was, one, to reinforce if this area is worn, and two, to stop the underneath insert panel edge from fraying.
Do the same with the back.
Hem the skirt if you want, or leave to fray.
I decided to add a frill on the bottom.
I joined strips of leftover denim to make a large circle, almost twice the width of the skirt's bottom edge.

I added some gathered tulle and a strip of floral printed cotton to the denim strip and attached to to the bottom of the skirt, gathering as I went.
This is the finished result:

Here's another one I prepared earlier. This one has a double row of stitching at the hem so it doesn't fray too far. It will look more "raggy" after a wash and tumble dry.


Note the zig zag stitching on the overlap. The fabric had worn thin on this pair and it needed some reinforcement. I also put a patch underneath on the back


My Mum gave me this dress when she was clearing out her wardrobe.
It has two layers, the top is a lovely lace patterned tulle with a bordered hem. I decided to make it into a princess/dress-up style skirt for my niece.
In the spirit of wardrobe refashion and anti consumption we are trying to have a less commercial Christmas this year by avoiding buying our gifts retail, ie we want to make them or buy slightly used, or just be really original. So all my nieces will be getting some girly princess/fairy outfits made by me. To my family if you are reading this, please don't spoil the surprise!
Here's what I did:
1. Measured the length I needed plus seam allowance for the top to turn over the elastic.
2. Marked with chalk and cut.
3. Repeated steps 1 and 2 for the underneath layer.
4. Zig-zag stitched the layers together at the top edge, then folded it over a loop of elastic (cut to the waist measurement and joined together) and stitched down.
Easy!
I'm going to use the top half of the dress to make a ruffled wrap.

Some of my friends will remember seeing this skirt before:
I made this about two years ago, from an old pair of jeans that I didn't wear anymore. I was inspired by some original looking skirts I saw online made from jeans combined with other fabrics and decided to have a go at the jeans to skirt transformation myself.
There are many sites out there with tutorials that will show you how to turn jeans into a skirt with some slight variations, basically you cut the legs to the length required, cut or unpick the inner leg seams up to the crotch, then a little bit further up the front and back seams, overlap the top bits so they sit flat and then stitch in a triangle panel to fill in the gap. You can also cut up the side seams if you wish and insert panels for extra flare at the sides.
For more details check out Busy Parents online or this site with instructions from five other websites, or try this video if you like more visual instructions.
For my skirt, I decided lots of flowers up one side would be something different and add a bit of personality.
I made some patterns in varying sizes of my chosen motif – a five petal flower, and chose some red scrap fabrics with differing textures – plain cotton, printed, velvet and satin to make the flowers.
I appliqued some of the flower shapes onto the skirt  and used others to make floating shapes to layer on top for a more textured look.
Some of the flowers were attached by sewing white flower and red seed beads in the centre and others were attached by sewing on some red tulle roses that I had made for another project many years ago.
I enjoy wearing my one of kind skirt to different occasions, and it certainly gets noticed!

I needed a formal dress for an event I attended in early 2002 (Wellymoot formal dinner, 60th NZ Rover Scout Moot held in Wellington). So I did a quick refashion on my old school ball dress (red velvet, off the shoulder sleeves, princess line with flared skirt, that my wonderful mother shed blood sweat and tears to make – sorry Mum!).
First the sleeves were removed and armhole edges stitched down. I unpicked the centre seam to add eyelets to the waist level, and gathered/ruched the other seams to form a bustle shape – just like Gok did in Gok's fashion fix!  I then added elastic straps and stitched  on a ribbon rose trim strap.
This formed the bodice. For the skirt I made a simple A-line petticoat from red satin, then attached a huge length of black tulle to the waist. The bottom edge was then gathered up to the required length, and red ribbon roses stitched on top to look pretty.
Result, one very quick Victorianesque evening gown!