My sewing, refashioning and upcycling projects revealed
You are currently browsing all posts tagged with patchwork
Thanks to my husband Keith, I got some lovely shots of the finished fairy style dresses I made.
This one I am wearing is the one I wrote about in my last post , made from denim scrap from some jeans and other bits and pieces. It took me a long time to finish, as I got quite frustrated with the whole thing a few times, then it finally came together the way I wanted.
The skirt is made up of different layers using strips of tricot and tulle on the bottom, some tea dyed broderie anglaise cotton from an old skirt, strips of vintage spotted net and some ripped up pieces of an old blouse, and then the patchwork bustle layer on top. The bodice is cut from the bottom half of a pair of jeans (the top got made into a skirt) with patchy bits here and there, and mock lace-up inserts on the front.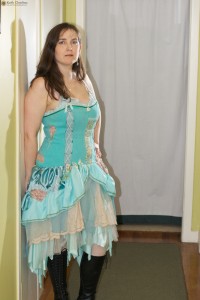 I have more close-up pics of the details in my last post, and of the bodice and construction of the first layer here.
Coming soon, pictures of the other dress.

Remember this green jeans skirt I made? I'm using the cut off pant legs to make a bodice for a patchy fairy style dress.
Here's a look at the front part of the bodice before being completely sewn up.
You can see I've used the unpicked hem at the top of one panel for a bit of added textural detail and I've added some patchwork applique and lace.
The skirt base is cut from an old cotton sheet with randomly sized triangular strips of tricot attached to the bottom. I'm planning to have lots of layers and scrappy bits over the top. The bottom edge is shaped so that it will be a bit shorter at the front.
The dress lining is made from the same green tricot, the elastic straps are from a bra that I didn't fit properly

Now I'm building up the layers, firstly with some gathered tulle,
then with broderie anglaise from my tea dyed skirt, I cut it off just under the pockets and shaped it slightly to fit the shape of the skirt base.
Currently going well and progressing as planned, hooray!

I started with a pair of slightly faded green jeans, then made them into a skirt like this.
It was a bit plain so I decided to add some patchwork applique and lace
My favourite so far!
If you look at the back of the waistband you can see the original colour where I've pulled the tag off. It's now more of a turquoise green.
I am using the cut off pieces from the legs for another project which will be revealed soon.

Yay, it's finished at last. I started making this quilt for my niece Rylee about 3 years ago, when my brother was wanting to pass on her outgrown clothes. I had made one for my son Ewan, and was quite keen to do another using pink girly clothing. It has turned out much bigger than it really needed to be. I think I had originally intended to make it 3 x 4 blocks, but somehow decided that 4 x 5 blocks would be a good idea…now it covers our king size bed!
I used a nine patch block with the central square cut in denim (from her jeans) to give some stability to the stretchier knits. Most of the denim squares had some kind of embroidery detail already on the fabric, so the plain ones got the applique treatment with different flower motifs. As with Ewan's quilt, all the knit fabrics are backed with fusible interfacing to stop them stretching as I sew. I machine quilted along the sashing strips running across the quilt, and did lots of hand quilted motifs all over the quilt using images from the fabrics as inspiration.
Here is Rylee receiving her quilt.
I think she liked it!

I made a log cabin quilt for my friends Pip and Dave, using up a heap of scraps I had been storing for a while. This was my first attempt at doing a real quilt, so I learned a few things on the way.  The most important thing was why quilts are traditionally made from cotton fabric -  the synthetic ones are so much harder so sew! Cotton fabrics are stable and flow through the machine like they're supposed to. The man-made fabrics, well they just have a mind of their own. Combining them in a quilt was kind of interesting.
I printed a wedding photo onto some printable cotton designed to go in your computer's printer, to use as the centre panel and then worked a pattern around it with the log cabin blocks. The border around the photo is made from strips of Pip's dress. I machine appliqued 4 red heart motifs to frame it.
I machine quilted around the blocks for stability, and hand quilted heart motifs where there was a need.
Oh yeah, Keith helped me by colouring the bouquet and Dave's tie and buttonhole in the photo before it was printed. Ok he kind of helped with the printing part too. Thank you dear!
We hope Pip and Dave enjoy their quilt and think happy marriage thoughts when they use it


Sometimes I get very emotionally attached to clothing, and found it difficult to get rid of my son's baby clothes. I decided to use all my favorite ones to make him a special patchwork blanket/quilt after child number two had outgrown the ones he was able to wear as well (one summer baby and one winter, so not much clothes sharing from size 000-1) and then give away the rest.  I also kept aside my favorites of number two, he had some adorable little outfits

This was my first ever attempt at doing a quilt of any kind, so I was a bit unsure to start with. I did a bit of research online to see what others has done and came to a grinding halt. Although there was plenty of information about "normal" quilting,  there was very little about using baby clothes and I was completely uninspired by the T-shirt quilts, so I had to fudge my way through it.
I started off by studying the clothes, looking at the size and shape of any pictures or text on them to determine how big to cut the squares and also how big the blocks would have be to get the right size to cover the bed…yes, there was an awful lot of thinking involved this process!
Once I knew what I was doing (ha!) I cut up the clothes (scary!) into squares slightly bigger than needed and then ironed on squares of fusible interfacing onto the ones in knit fabric for stability and to avoid stretching. This was quite a long process. I then used a template to cut to the correct size, trying to centre any detail where possible.
Then it was the fun part of sorting them into blocks, stitching up (another long process) and arranging the blocks into some kind of pattern…yes, there was a lot of sorting, thinking and rearranging during this process too.
Once the piecing was done I made a quilt "sandwich" using some navy wincyette for the backing, and a layer of old fleece/sweatshirt fabric I had in my stash for the batting (I wanted something light – and really cheap). I tried to machine stitch around the blocks but the the wincyette fabric proved to be very unstable and kept moving and puckering all over the place. In the end I had to to quilt the whole thing by hand. Yes it took a long time.  Luckily this was something I could do in front of the TV at night. I just stitched around the squares, didn't bother doing anything fancy.
I'm glad to say when it was finally finished Ewan thought it was just great. The first thing he did was get out his little toy cars and drive them along the sashing "roads"

How cute.
I am currently doing a quilt like this for my niece. I had her clothes sitting around for about two or three years, and got started on it properly nine months ago. Like I said, its a long, slow process! I am in the hand quilting stage at the moment and will post some pictures when it's finished.
Here are some close up details of Ewan's quilt: