My sewing, refashioning and upcycling projects revealed
You are currently browsing all posts tagged with jeans
This is the dress I made from the painted denim jeans panel.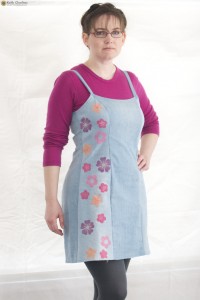 Alas, some of the detail in the top layers of paint have been lost in the wash, still looks OK though.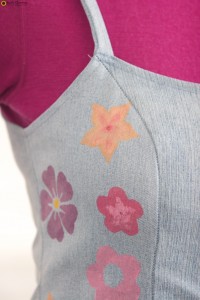 Next time I try this I will know to do all the painting in one flat layer, like a picture in a colouring in book.


I've been painting! Every now and then my friends and I get together for an arty/crafty painting session. Rather than doing the usual painting on canvases, this time we decided to try stenciling on T-shirts using freezer paper. I had never tried this before as we can't get freezer paper in the shops here in NZ, but my friend Raewyn was able to get some from the US for us to experiment with.
We printed out some designs/motifs to use, then transferred them to the freezer paper by tracing over the top (dull side of freezer paper) in pencil. Next we used a craft knife and cutting mat to cut out the shape, then ironed the stencil onto our garment/fabric. Shiny side down so it sticks to the fabric not the iron! (whoops, sorry Rae) When using a T-shirt, another piece of freezer paper is also ironed to the back of the design to prevent the paint seeping through.
I'm still in my denim phase at the moment, old denim jeans are cheap and readily available from second hand shops and easy to work with, so I chose to do some painting on a jeans panel to be put in another garment rather than a T-shirt.
Supposedly you use textile paints, but this is all I had and didn't want to buy more:

I did have some perfectly good ordinary acrylic paint, and had seen it used to dye lace etc so I wondered if it would work the same way as the textile paint.

I decided to experiment a little on fabric scraps. The swatches on the left are the "control" scraps, the ones on the right have been heat set with an iron and then washed to see if the colour stays put.

The top blobs (red and white) are the textile paints for comparison. I tried using white as a base layer on the denim to make the colour stand out, as it is harder to see on a dark background. I used the acrylic colours mixed with the white textile paint as well as straight from the bottle to see if it made any difference.
As you can tell, the textile ink by itself was fine, the acrylic by itself was fine, the textile/acrylic mix was also fine. The coloured paint on top of the white was not fine, it washed off; the paint needs to bond with the fabric to become permanent.
My conclusions, one, ordinary acrylic paint made for paper and canvas works just as well as textile paints, two, if painting on denim, it's best to use a lighter coloured denim if you want the paint to stand out.
This is what my panel looked like after I painted it, with the stencils still on:

And here is a close up of flowers after the stencils came off:

I'll be using the panel in a dress which should be finished soon, watch this space…

I started with a pair of slightly faded green jeans, then made them into a skirt like this.
It was a bit plain so I decided to add some patchwork applique and lace
My favourite so far!
If you look at the back of the waistband you can see the original colour where I've pulled the tag off. It's now more of a turquoise green.
I am using the cut off pieces from the legs for another project which will be revealed soon.

The post about my jeans skirt has had a lot of interest so I decided to do a basic tutorial for the jeans to skirt transformation.
This idea is not a new one and there are plenty of tuts and varying methods, this is the way I do it.
Take an old pair of old jeans that you can still fit at the waist but don't wear anymore, because of worn knees for example.

Cut about 2-3cm longer than you want the length of skirt to be. You need to allow for a hem if you are having one and a bit extra for realigning the edge.
This one I cut even shorter after I took the photo as I am going to put a ruffle on the bottom.

Unpick leg seams and about half the crotch seams, to where the seam straightens out.

Open and lay the flaps over each other, pin.
Open cut off leg piece,

insert under opening and pin together.

Sew the insert stitching in the centre of the original seam allowance, and zig zag the cut edges if you want.

This is what it will look like underneath

Cut away the excess up to 1cm away from the seam.

I like to put an extra row of zig zag stitch where the original seam was, one, to reinforce if this area is worn, and two, to stop the underneath insert panel edge from fraying.
Do the same with the back.
Hem the skirt if you want, or leave to fray.
I decided to add a frill on the bottom.
I joined strips of leftover denim to make a large circle, almost twice the width of the skirt's bottom edge.

I added some gathered tulle and a strip of floral printed cotton to the denim strip and attached to to the bottom of the skirt, gathering as I went.
This is the finished result:

Here's another one I prepared earlier. This one has a double row of stitching at the hem so it doesn't fray too far. It will look more "raggy" after a wash and tumble dry.


Note the zig zag stitching on the overlap. The fabric had worn thin on this pair and it needed some reinforcement. I also put a patch underneath on the back


Some of my friends will remember seeing this skirt before:
I made this about two years ago, from an old pair of jeans that I didn't wear anymore. I was inspired by some original looking skirts I saw online made from jeans combined with other fabrics and decided to have a go at the jeans to skirt transformation myself.
There are many sites out there with tutorials that will show you how to turn jeans into a skirt with some slight variations, basically you cut the legs to the length required, cut or unpick the inner leg seams up to the crotch, then a little bit further up the front and back seams, overlap the top bits so they sit flat and then stitch in a triangle panel to fill in the gap. You can also cut up the side seams if you wish and insert panels for extra flare at the sides.
For more details check out Busy Parents online or this site with instructions from five other websites, or try this video if you like more visual instructions.
For my skirt, I decided lots of flowers up one side would be something different and add a bit of personality.
I made some patterns in varying sizes of my chosen motif – a five petal flower, and chose some red scrap fabrics with differing textures – plain cotton, printed, velvet and satin to make the flowers.
I appliqued some of the flower shapes onto the skirt  and used others to make floating shapes to layer on top for a more textured look.
Some of the flowers were attached by sewing white flower and red seed beads in the centre and others were attached by sewing on some red tulle roses that I had made for another project many years ago.
I enjoy wearing my one of kind skirt to different occasions, and it certainly gets noticed!