My sewing, refashioning and upcycling projects revealed
You are currently browsing all posts tagged with flower
This is the dress I made from the painted denim jeans panel.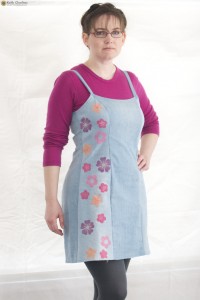 Alas, some of the detail in the top layers of paint have been lost in the wash, still looks OK though.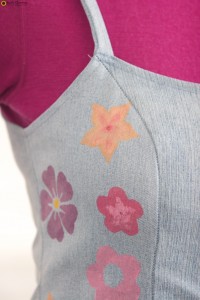 Next time I try this I will know to do all the painting in one flat layer, like a picture in a colouring in book.


I've been painting! Every now and then my friends and I get together for an arty/crafty painting session. Rather than doing the usual painting on canvases, this time we decided to try stenciling on T-shirts using freezer paper. I had never tried this before as we can't get freezer paper in the shops here in NZ, but my friend Raewyn was able to get some from the US for us to experiment with.
We printed out some designs/motifs to use, then transferred them to the freezer paper by tracing over the top (dull side of freezer paper) in pencil. Next we used a craft knife and cutting mat to cut out the shape, then ironed the stencil onto our garment/fabric. Shiny side down so it sticks to the fabric not the iron! (whoops, sorry Rae) When using a T-shirt, another piece of freezer paper is also ironed to the back of the design to prevent the paint seeping through.
I'm still in my denim phase at the moment, old denim jeans are cheap and readily available from second hand shops and easy to work with, so I chose to do some painting on a jeans panel to be put in another garment rather than a T-shirt.
Supposedly you use textile paints, but this is all I had and didn't want to buy more:

I did have some perfectly good ordinary acrylic paint, and had seen it used to dye lace etc so I wondered if it would work the same way as the textile paint.

I decided to experiment a little on fabric scraps. The swatches on the left are the "control" scraps, the ones on the right have been heat set with an iron and then washed to see if the colour stays put.

The top blobs (red and white) are the textile paints for comparison. I tried using white as a base layer on the denim to make the colour stand out, as it is harder to see on a dark background. I used the acrylic colours mixed with the white textile paint as well as straight from the bottle to see if it made any difference.
As you can tell, the textile ink by itself was fine, the acrylic by itself was fine, the textile/acrylic mix was also fine. The coloured paint on top of the white was not fine, it washed off; the paint needs to bond with the fabric to become permanent.
My conclusions, one, ordinary acrylic paint made for paper and canvas works just as well as textile paints, two, if painting on denim, it's best to use a lighter coloured denim if you want the paint to stand out.
This is what my panel looked like after I painted it, with the stencils still on:

And here is a close up of flowers after the stencils came off:

I'll be using the panel in a dress which should be finished soon, watch this space…

This is another dress we used in a recent photo shoot, beautifully modeled by my lovely sister.
The skirt is made from vintage fabrics and lace. The larger pieces of fabric in the skirt are square shapes, with one corner rounded off in a similar way that circular skirts are cut. Putting many pieces together like this makes the skirt very full and swirly.
The bodice is made using fabric cut from another skirt I shortened.
Front and back has hand made fabric roses from from vintage fabrics, trimmed with ribbon, lace and vintage braid.

I haven't posted for a while so here's some pics of this large bag I made ages ago for my mum.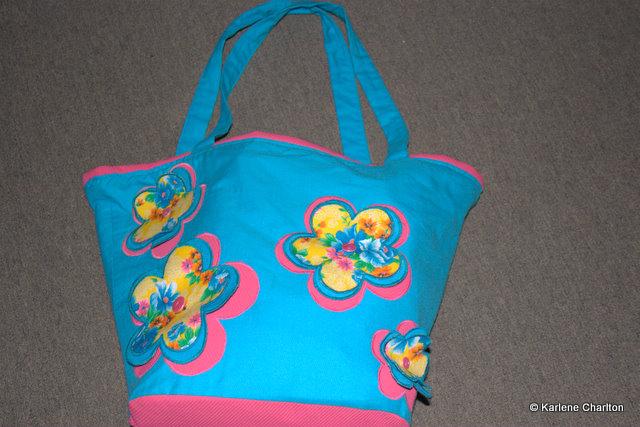 The bag base was originally cut smaller than this. I had a small scrap of floral fabric from Nana's stash that I wanted to use for the flower shapes, utilizing as much of the piece as possible. After building up the layers underneath the flowers grew in size and I knew I would have to re-cut the bag to fit them on without looking all squashed up.
This one is a photo of mum wearing it so you can see the scale.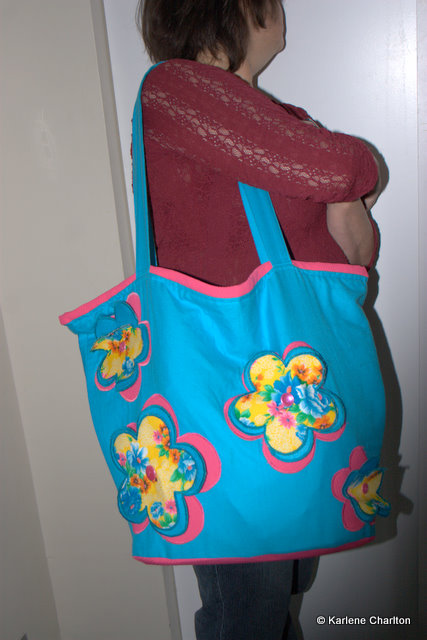 This is something I have been working on for a while now. Almost done, just got to do a few more fabric roses.
The peach fabric used in the photo above are the leftover pieces from the skirt I shortened here.
It's turned out very differently from my original idea but still very pretty all the same. Can you guess what it is?

Remember all those frilly girly things I made for my nieces for Christmas? Well, I finally got some pictures of them all wearing the outfits. At Easter! The sun was very bright which is why some of the expressions are not very fairy princess like

Here is Alyssa who is wearing a beaded necklace I made for her a few years ago and had completely forgotten about:

Next Rylee, squinting very badly, she was having a good time, honest!

And lastly Briana. Her bag is from an op shop, I re-covered the back. I love the fact that she is wearing tattoos on her arms LOL, drawn on by her dad.

The tops they are wearing are all bought from op shops and inspired the rest of the outfits. Alyssa's one is a bit see through so she is wearing a T-shirt underneath with a butterfly print. Pretty!

We've had a busy couple of weeks here getting organized to go to our friends wedding last weekend. We had to travel a long way, 7hrs drive to the grandparents, chit chat and drop off kids, next day another 3hrs to where we are staying. Keith is the official photographer and wants to go to the rehearsal which we miss, never mind we still get to go over venue for photo opportunities. Wedding day starts off with bad weather and photographer is worried, but clears up in time for ceremony and turns out great. And he got some lovely photos, good job dear!
Next two days are spent traveling home again, its now 4 days later and we're still not fully unpacked. I have a huge mountain of washing to sort and fold up and the boys are running out of clothes.
Good news, got the bag finished in time to take to the wedding. Well, just, I left off any type of fastening and didn't have time to pin stitch the flap.
I had to sew the lining twice due to doing it wrong way around with interlining on the inside (the wrong side!) the first time, whoops.

My second go

Had lots of fun with the trimmings on the front flap. Stage one, the net over lay.

Next, the ribbon and cord trimming.

Yo yo's

Fabric roses

Then beaded loops and we're done. And the final finished product!

I was careful to get the lining of the flap with the picture up the right way when the bag is open.

Here I am wearing it at the wedding with my matching dress, a birthday gift from Mum.

And a close up of the flap, for those like me who strain their eyes and put their noses to the screen to take in the details,

I love my new little bag, can't wait to take her out again


I am currently in the process of making a handbag to take to a wedding this month. The fabric I'm using is from my Nana's stash, and just happens to be the exact shade of turquoise as the dress I want to wear (a birthday present from my mum, thanks Mum!). For the lining I am using a lovely vintage cotton print that was also in my Nana's stash (thanks Nana!). Some of it was already cut out into a shape that looked like a little girls dress, with button up straps. I had often wondered who Nana was making the dress for, and why it was never finished. When I asked Mum about this and she said she thought it may have been for me. I'm going to smile and think of my Nana every time I open this bag.
So far I have cut all the pieces out and sewed the main pieces together, boxing out the bottom.
During the school holidays I also spent a bit of time making all these little fabric flowers and yo yo's that are going to be stitched on the front flap.

I'm still here, still sewing just slowed down a bit over Christmas.
This is the flower circlet headdress I made for one of my nieces, to go with the pink ruffled skirt.
I started off with a wire base and covered it with some ribbon (glued on) leaving a trail of ribbon on each end to tie on her head.
I made some tulle roses from scrap left over from the skirt and glued these on the base, then pulled apart some artificial silk flowers and glued the petals in the gaps.
Here I am trying to model it while taking a photo!
I also made a headband for her to wear when a dress-up one would be inappropriate, like school. I used a plain plastic band from the $2 shop and glued on a pink ribbon, then a tulle flower and yo-yo made from the skirt fabric. The ribbon is a little crooked as you can see, next time I think I'll wrap the ribbon around the band rather than try to get it straight!

When my 5 year old niece Briana saw her sister designing a bag to be made by me, of course she wanted one too. Her design was not as detailed as Alyssa's, but she was very certain that it was to be pink. The drawing she did was hard to see so I haven't posted it. She said "I want it a pink square bag, with one handle and lots of flowers like Nan's (referring to a bag I made for my Mother), all pink".
I just so happened to have a pinkish denim skirt with a ruffled hem that I got from an op shop with the intention of turning it into skirt, so I used that as the base and rifled through my scrap stash – I keep everything – for pink bits for the flowers.
Here is the finished bag.
I cut out 2 rectangle shapes as big as I could fit into the skirt panels, sorry I didn't take any before pics

it was a straight paneled skirt with a shaped hem.
I stitched these together and boxed out the bottom by sewing a triangle across the the corners ( I promise to take lots of pictures next time and do a tutorial!) and used the ruffle on the hem to trim the top edge.
I used the reverse side of the skirt fabric to cut 3 of the applique flower shapes and some pink cotton to do the other 3. For the floating flowers, I made 3 from floral cotton scraps and 3 from very special pink taffeta lining and pink floral nylon scraps, saved from a dress that my Nana made and wore to a wedding. I stitched beads in the centre to secure the flowers, this is the same technique I used on my denim jeans skirt.
I cut the strap as long as I could get it but it was still a little short, so I lengthened it by adding two strips to each end in lieu of a D ring. This left a funny looking gap. As I was wondering what I could do to fix this, I saw some pink and purple feathers in my pile of 'pink stuff' and remembered something Gok had done to a bag with feathers and beads. Ah ha!
I stitched the feathers to the back of the strap and used a hot glue gun to secure them properly, with a piece of ribbon over the top to look pretty. Glue is pretty ugly even on the back of something. Then I added some beads on the front side.