My sewing, refashioning and upcycling projects revealed
You are currently browsing all posts tagged with fairy
This is another dress we used in a recent photo shoot, beautifully modeled by my lovely sister.
The skirt is made from vintage fabrics and lace. The larger pieces of fabric in the skirt are square shapes, with one corner rounded off in a similar way that circular skirts are cut. Putting many pieces together like this makes the skirt very full and swirly.
The bodice is made using fabric cut from another skirt I shortened.
Front and back has hand made fabric roses from from vintage fabrics, trimmed with ribbon, lace and vintage braid.

Thanks to my husband Keith, I got some lovely shots of the finished fairy style dresses I made.
This one I am wearing is the one I wrote about in my last post , made from denim scrap from some jeans and other bits and pieces. It took me a long time to finish, as I got quite frustrated with the whole thing a few times, then it finally came together the way I wanted.
The skirt is made up of different layers using strips of tricot and tulle on the bottom, some tea dyed broderie anglaise cotton from an old skirt, strips of vintage spotted net and some ripped up pieces of an old blouse, and then the patchwork bustle layer on top. The bodice is cut from the bottom half of a pair of jeans (the top got made into a skirt) with patchy bits here and there, and mock lace-up inserts on the front.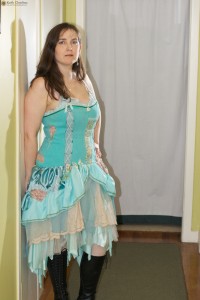 I have more close-up pics of the details in my last post, and of the bodice and construction of the first layer here.
Coming soon, pictures of the other dress.

The dress, as is, on my dress stand.
A bit lopsided but there is a reason as you will see…
I'm pleased with how this is turning out, there is just one little thing I have to change, the top part of the "petticoat" lining layer is sitting too high. It's kind of hard to tell on her, but on my body it looks a little weird and needs to be lowered a bit.
I'm either going to pull all the lace off the top and cut away the excess fabric, or pin and pinch it down like this and hand stitch the folds.
It was err, interesting sewing the bustle layer. When I first started I had a rough Idea of what I wanted it to look like but was getting very frustrated when it wasn't happening. I spend a long time (and I mean LONG, like days and days) thinking about how all the edges were going to be finished, how it was all going to be joined together, and how I could get lots of random scrappy bits sewn on in the right place until I felt like pulling my hair out!
I cut out the rough shape in the same cotton as the skirt base and added the ruffle around the edge with the dark green rick-rack trim, then decided I was just over thinking the whole thing and needed to let go and just sew sew sew. So… I grabbed some fabric scrap I liked, plonked it on, grabbed a bit of ribbon, slid them all into the sewing machine in a haphazard fashion and stitched away, and hey presto it worked!
I continued in this way until the the bustle piece was covered and looking just how i wanted it.
The pieces that I melted were used here under the bustle layer to add more texture and ruffly bits to the skirt.
Finishing the back was also giving me a bit of headache, this is how it turned out,
I made the zip visible as a design feature and added some fancy machine stitching along the edge. Have decided that the uneven height on the bodice panels and lace at top is also a "design feature"


Remember this green jeans skirt I made? I'm using the cut off pant legs to make a bodice for a patchy fairy style dress.
Here's a look at the front part of the bodice before being completely sewn up.
You can see I've used the unpicked hem at the top of one panel for a bit of added textural detail and I've added some patchwork applique and lace.
The skirt base is cut from an old cotton sheet with randomly sized triangular strips of tricot attached to the bottom. I'm planning to have lots of layers and scrappy bits over the top. The bottom edge is shaped so that it will be a bit shorter at the front.
The dress lining is made from the same green tricot, the elastic straps are from a bra that I didn't fit properly

Now I'm building up the layers, firstly with some gathered tulle,
then with broderie anglaise from my tea dyed skirt, I cut it off just under the pockets and shaped it slightly to fit the shape of the skirt base.
Currently going well and progressing as planned, hooray!

Remember all those frilly girly things I made for my nieces for Christmas? Well, I finally got some pictures of them all wearing the outfits. At Easter! The sun was very bright which is why some of the expressions are not very fairy princess like

Here is Alyssa who is wearing a beaded necklace I made for her a few years ago and had completely forgotten about:

Next Rylee, squinting very badly, she was having a good time, honest!

And lastly Briana. Her bag is from an op shop, I re-covered the back. I love the fact that she is wearing tattoos on her arms LOL, drawn on by her dad.

The tops they are wearing are all bought from op shops and inspired the rest of the outfits. Alyssa's one is a bit see through so she is wearing a T-shirt underneath with a butterfly print. Pretty!

I had some comments recently from Cathy McGregor from Napier who sent me some lovely pictures of the fairy skirts she has made for her granddaughters from old scarves.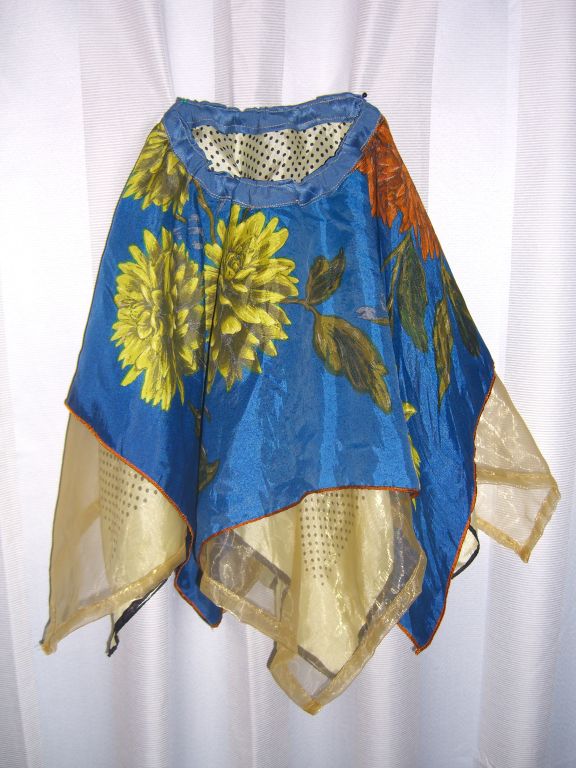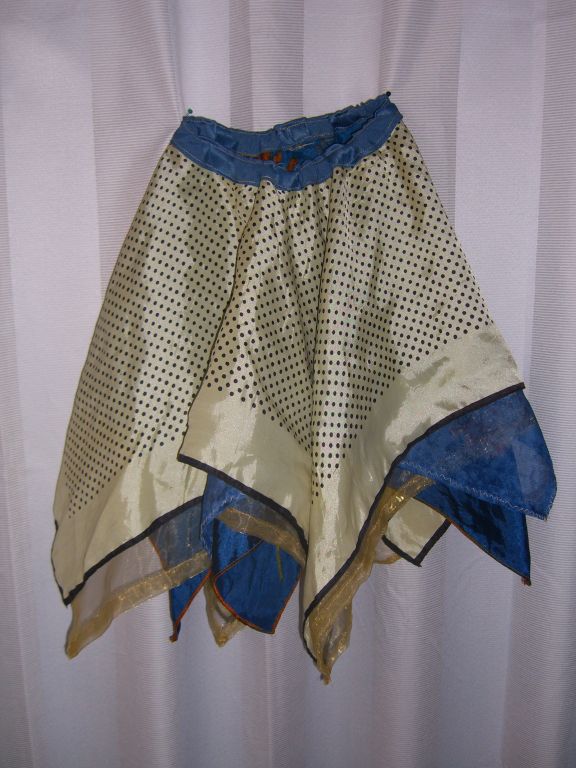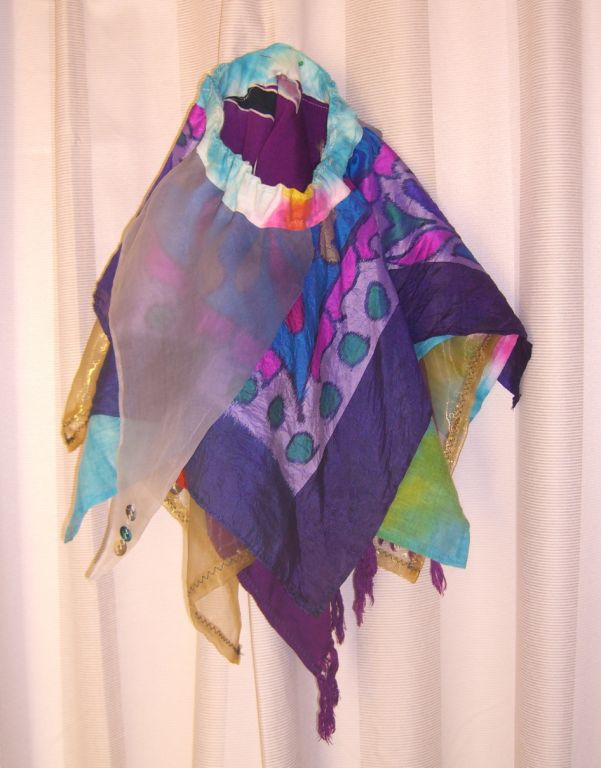 The gold coloured organza fabric which is used in both skirts is from a wrap/stole she made for a wedding, and the spotted lemon scarf was her mothers.
The pale blue narrow strips with sequins added to the ends, is from a scarf/large bow previously attached to a 1950's hat of her aunts.
As well as scarves, she is also using her collection of sarongs to make the skirts. Thanks for sharing these cool ideas Cathy, I will be looking out for scarves and things from op shops myself in future!
Some more tips from Cathy:
Firmly tack the inner circle (waist) before cutting around the template when using slippery fabrics.
Use bias cut strips to make the casing.
Have a look at my fairy skirt tutorial for more details on how to make this style of skirt.

I'm still here, still sewing just slowed down a bit over Christmas.
This is the flower circlet headdress I made for one of my nieces, to go with the pink ruffled skirt.
I started off with a wire base and covered it with some ribbon (glued on) leaving a trail of ribbon on each end to tie on her head.
I made some tulle roses from scrap left over from the skirt and glued these on the base, then pulled apart some artificial silk flowers and glued the petals in the gaps.
Here I am trying to model it while taking a photo!
I also made a headband for her to wear when a dress-up one would be inappropriate, like school. I used a plain plastic band from the $2 shop and glued on a pink ribbon, then a tulle flower and yo-yo made from the skirt fabric. The ribbon is a little crooked as you can see, next time I think I'll wrap the ribbon around the band rather than try to get it straight!

No fairy outfit would be complete without a wand. I made this one to go with the blue/turquoise wings and skirt.
I used an old knitting needle for the stick and covered it with a strip of knit fabric and some ribbon, gluing here and there with a hot glue gun to hold in place.
The fluffy bit at the top is made from tulle cut into circles, which are then folded in half, folded into quarters and then folded again, then stitched together to make a ball shape.
I made a flower shape from a piece of wire and attached it with the hot glue gun, then added the blue flower trim to finish it off.
This is the first of the three fairy/princess outfits to be completed! Yay!
I'm still working on headpieces for the other two, hopefully will be finished soon. In fact this whole project has taken me a lot longer than I expected, which is quite frustrating as I had other projects planned to give to people for Christmas and probably won't get them all done. Next up are some dress-ups for my boys, at least all the kids will have something hand made by me.

We've been very busy this week, today was the first I have been able to get any sewing done. I was very pleased to get this fairy skirt finished this morning. It's to go with the fairy wings in my last post.

I have used lots of layers of different fabrics cut into triangle or square shapes, overlapping at the waist, with a few lengths of ribbon to finish it off.
The main fabric is from an old silk skirt from my mum. I love it when Mum's have clean outs!
The pale blue bits are from the lining of the skirt and the deep blue and turquoise tulle is the same as I used for the wings.
I have used some light turquoise/blue fine cotton to line it.
I didn't want any gaps in the lining, but still wanted the shape and fullness of the outer layer, so what I did was cut two large squares, cut holes in the middle like I did for my first fairy skirt, then cut up the middle of each. I then joined the two together (the circle bits) to make one very full skirt layer with eight points. If you look carefully you can see one of the two seams where I joined them together.
This was the first time I tried this technique and I really like how it turned out. In fact I wish I done the same thing to the outer layer!
Will have to do some more skirts that way in the future.

I'm so excited. I have just made my first successful pair of fairy wings!
Here is my little boy kindly modeling them for me, and yes he actually wanted to wear them.
In my research on how to make fairy wings I found mostly tutorials on the wire coat hanger technique, you know, you get the coat hangers (or just wire shapes) cover them with pantyhose and join them together. But of course I had to be different.
I wanted something a bit lighter and not so awkward so I decide to use layered tulle.
I used four layers, two turquoise and two dark blue, cut into a wing shape and then gathered up the middle. The two colours were overlapped slightly when I stacked them to show a variation of colour at the edges.
To cover up the stitching I sewed on some blue cord/braid over the top. I put shapes in the middle of the tulle and stitched around the edges through all the layers.
I also threaded some fishing wire through the wings in a loopy pattern for stiffness. To cover this up, on the back where you see most of the wings I sewed braid over the top of the wire and on the front I used some silver dimensional fabric paint.
For the straps I covered some elastic with fabric and hand stitched them in place on the front.
I had lots of fun making these. If I was going to make them quicker I think I would cut the wing shapes smaller and use more layers of tulle. Then there won't be the need to add anything to stiffen them out.