My sewing, refashioning and upcycling projects revealed
You are currently browsing all posts tagged with dress
This is the dress I made from the painted denim jeans panel.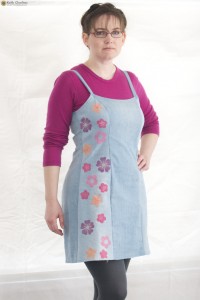 Alas, some of the detail in the top layers of paint have been lost in the wash, still looks OK though.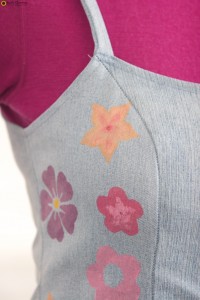 Next time I try this I will know to do all the painting in one flat layer, like a picture in a colouring in book.

This is another dress we used in a recent photo shoot, beautifully modeled by my lovely sister.
The skirt is made from vintage fabrics and lace. The larger pieces of fabric in the skirt are square shapes, with one corner rounded off in a similar way that circular skirts are cut. Putting many pieces together like this makes the skirt very full and swirly.
The bodice is made using fabric cut from another skirt I shortened.
Front and back has hand made fabric roses from from vintage fabrics, trimmed with ribbon, lace and vintage braid.

Thanks to my husband Keith, I got some lovely shots of the finished fairy style dresses I made.
This one I am wearing is the one I wrote about in my last post , made from denim scrap from some jeans and other bits and pieces. It took me a long time to finish, as I got quite frustrated with the whole thing a few times, then it finally came together the way I wanted.
The skirt is made up of different layers using strips of tricot and tulle on the bottom, some tea dyed broderie anglaise cotton from an old skirt, strips of vintage spotted net and some ripped up pieces of an old blouse, and then the patchwork bustle layer on top. The bodice is cut from the bottom half of a pair of jeans (the top got made into a skirt) with patchy bits here and there, and mock lace-up inserts on the front.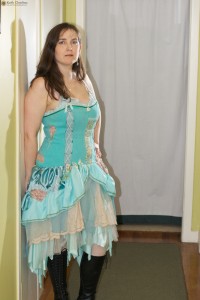 I have more close-up pics of the details in my last post, and of the bodice and construction of the first layer here.
Coming soon, pictures of the other dress.

The dress, as is, on my dress stand.
A bit lopsided but there is a reason as you will see…
I'm pleased with how this is turning out, there is just one little thing I have to change, the top part of the "petticoat" lining layer is sitting too high. It's kind of hard to tell on her, but on my body it looks a little weird and needs to be lowered a bit.
I'm either going to pull all the lace off the top and cut away the excess fabric, or pin and pinch it down like this and hand stitch the folds.
It was err, interesting sewing the bustle layer. When I first started I had a rough Idea of what I wanted it to look like but was getting very frustrated when it wasn't happening. I spend a long time (and I mean LONG, like days and days) thinking about how all the edges were going to be finished, how it was all going to be joined together, and how I could get lots of random scrappy bits sewn on in the right place until I felt like pulling my hair out!
I cut out the rough shape in the same cotton as the skirt base and added the ruffle around the edge with the dark green rick-rack trim, then decided I was just over thinking the whole thing and needed to let go and just sew sew sew. So… I grabbed some fabric scrap I liked, plonked it on, grabbed a bit of ribbon, slid them all into the sewing machine in a haphazard fashion and stitched away, and hey presto it worked!
I continued in this way until the the bustle piece was covered and looking just how i wanted it.
The pieces that I melted were used here under the bustle layer to add more texture and ruffly bits to the skirt.
Finishing the back was also giving me a bit of headache, this is how it turned out,
I made the zip visible as a design feature and added some fancy machine stitching along the edge. Have decided that the uneven height on the bodice panels and lace at top is also a "design feature"


Remember this green jeans skirt I made? I'm using the cut off pant legs to make a bodice for a patchy fairy style dress.
Here's a look at the front part of the bodice before being completely sewn up.
You can see I've used the unpicked hem at the top of one panel for a bit of added textural detail and I've added some patchwork applique and lace.
The skirt base is cut from an old cotton sheet with randomly sized triangular strips of tricot attached to the bottom. I'm planning to have lots of layers and scrappy bits over the top. The bottom edge is shaped so that it will be a bit shorter at the front.
The dress lining is made from the same green tricot, the elastic straps are from a bra that I didn't fit properly

Now I'm building up the layers, firstly with some gathered tulle,
then with broderie anglaise from my tea dyed skirt, I cut it off just under the pockets and shaped it slightly to fit the shape of the skirt base.
Currently going well and progressing as planned, hooray!

I've been wanting to have a go at dyeing with tea for a while now.
I had an old white cotton skirt with a broderie anglaise hem that I wanted to incorporate into my current project (using up the pant legs from the green jeans) and needed to be less, well, white!
I also wanted to try it on this cream rayon dress mum gave me with cool embroidery details
and a vintage (gulp) wool cardigan that had become yellow with age to see a) if it would work on rayon and wool, and b) what colour would cream go in a tea bath?
I boiled a big pot of water and then added LOTS of old tea bags, most of which had been sitting around in the kitchen for years as we drink coffee!
I let the tea brew for an hour or so and then removed all the teabags – or so I thought!
The pot wasn't big enough for all three garments at once so I soaked them one at a time. The cotton skirt was first, I left it in for about two hours giving a stir every now and then, and took it out for a rinse.
I left the rayon dress for a bit longer, as supposedly it it harder to dye. The great thing about a tea bath is that you can use the same liquid over again. I put the wool cardigan in last and left it over night (about ten hours) as I wanted to see how brown it would go.
Unfortunately, when I took it out the next morning it was very blotchy. It was a lovely caramel brown colour, but blotchy. I couldn't understand how this happened when the other two were fine? Was it because it didn't get stirred?
When I emptied the pot of tea I discovered the problem. Teabags still at the bottom of the pot! Arrrgg! If you want a nice even colour, take out ALL the teabags first! And give it a stir now and then.
I also gave the garments a spin in the dryer to "set" the dye, hence the slight shrinkage of the cardigan. I'm not too worried about it as I was planning to try and felt it anyway.
Here's my after shots of the skirt and dress:
They came out a kind of pinky brown colour, they look a bit washed out in these photo's, you can see a more true representation of the colour in this one:
Now it works better with the other fabrics I'm using.

My Mum gave me this dress when she was clearing out her wardrobe.
It has two layers, the top is a lovely lace patterned tulle with a bordered hem. I decided to make it into a princess/dress-up style skirt for my niece.
In the spirit of wardrobe refashion and anti consumption we are trying to have a less commercial Christmas this year by avoiding buying our gifts retail, ie we want to make them or buy slightly used, or just be really original. So all my nieces will be getting some girly princess/fairy outfits made by me. To my family if you are reading this, please don't spoil the surprise!
Here's what I did:
1. Measured the length I needed plus seam allowance for the top to turn over the elastic.
2. Marked with chalk and cut.
3. Repeated steps 1 and 2 for the underneath layer.
4. Zig-zag stitched the layers together at the top edge, then folded it over a loop of elastic (cut to the waist measurement and joined together) and stitched down.
Easy!
I'm going to use the top half of the dress to make a ruffled wrap.

I was honored to be asked by my sister Janelle to make her wedding dress (the wedding was in November 2007) even though it was going to be tough with her in Auckland and me in Paraparaumu at the time. She designed it herself, I interpreted the drawings, made the pattern and sewed it.
Not the best pose, I know, but it was the best view of the front.
She wanted the front to be 'pretend' lace up and the back to be real lace up as the opening.
The skirt was made to sit on the hips to show off her tiger tattoo on her back (can't see it very well in photo) although not far enough down for her taste as it turned out, she lost weight before a crucial fitting

  and it ended up a little tight, even after I let the seams out as much as possible.
I also helped to make the flower girl dresses for my nieces. Janelle had made the skirts, with lovely layered chiffon petals, I did the top bits (On the big day, like seriously) and Mum joined them up after I started having a anxiety attack about the fact that I was still sewing dresses when I should have been putting on my own bridesmaid dress as we were already late for the ceremony – aahhhhhh!
They weren't exactly how my sister envisioned them to be, but at least the girls had something to wear, and they still looked very cute.
The main thing I learned form this experience is how very important it is to listen to your client and keep communicating until you are 150% sure of what you are doing!
I also learnt I had too much stress in my life and I could no longer bear living so far away from my extended family. Luckily for me my wonderful husband was sympathetic and got a job in Auckland six months later.
BTW isn't my little sister just beautiful? I am always flattered at any remarks of similarity.

I made a log cabin quilt for my friends Pip and Dave, using up a heap of scraps I had been storing for a while. This was my first attempt at doing a real quilt, so I learned a few things on the way.  The most important thing was why quilts are traditionally made from cotton fabric -  the synthetic ones are so much harder so sew! Cotton fabrics are stable and flow through the machine like they're supposed to. The man-made fabrics, well they just have a mind of their own. Combining them in a quilt was kind of interesting.
I printed a wedding photo onto some printable cotton designed to go in your computer's printer, to use as the centre panel and then worked a pattern around it with the log cabin blocks. The border around the photo is made from strips of Pip's dress. I machine appliqued 4 red heart motifs to frame it.
I machine quilted around the blocks for stability, and hand quilted heart motifs where there was a need.
Oh yeah, Keith helped me by colouring the bouquet and Dave's tie and buttonhole in the photo before it was printed. Ok he kind of helped with the printing part too. Thank you dear!
We hope Pip and Dave enjoy their quilt and think happy marriage thoughts when they use it


I made this Wedding dress for my friend Pip. Thankfully she made life easier for me by purchasing a pattern, so all I had to do was sew it.
The lace has an organza floral trim and border. I used the tricky snip-and-hand stitch method on some of the seams near the hem so the flower motifs weren't caught up in the stitching.
I don't have any full dress shots unfortunately, but if I ever get hold of any then I will put them here.