My sewing, refashioning and upcycling projects revealed
You are currently browsing all posts tagged with circle
I had some comments recently from Cathy McGregor from Napier who sent me some lovely pictures of the fairy skirts she has made for her granddaughters from old scarves.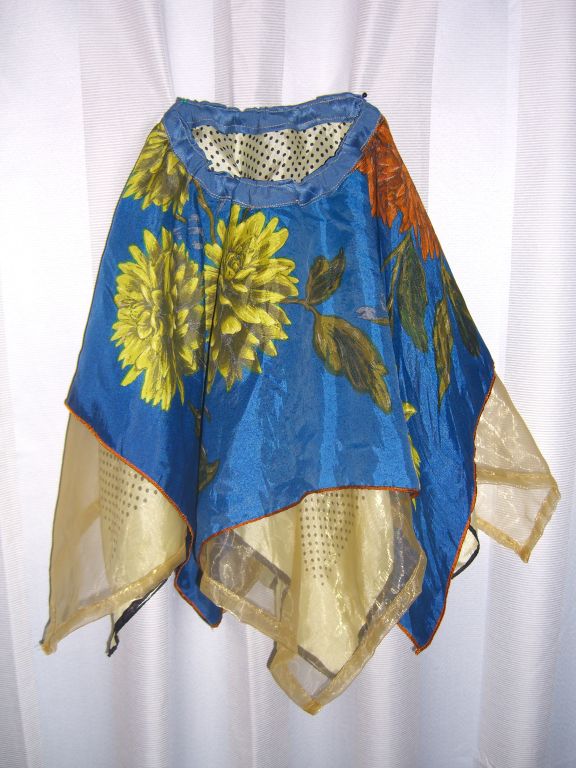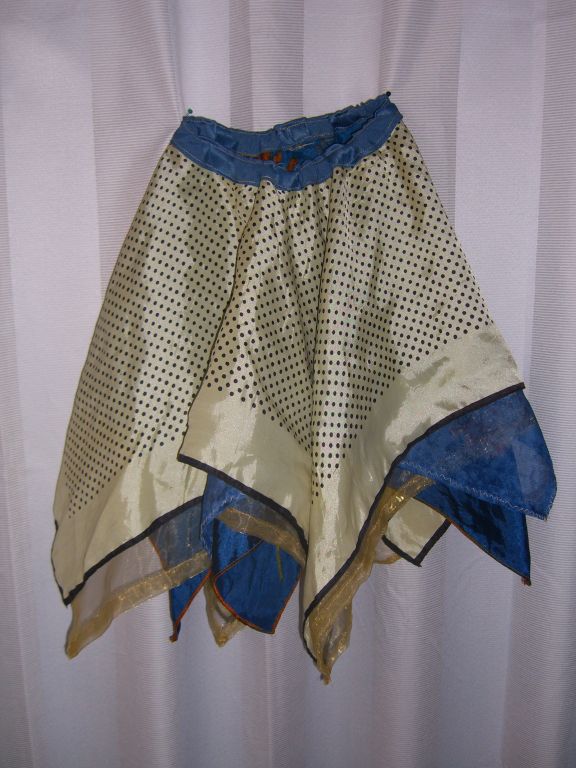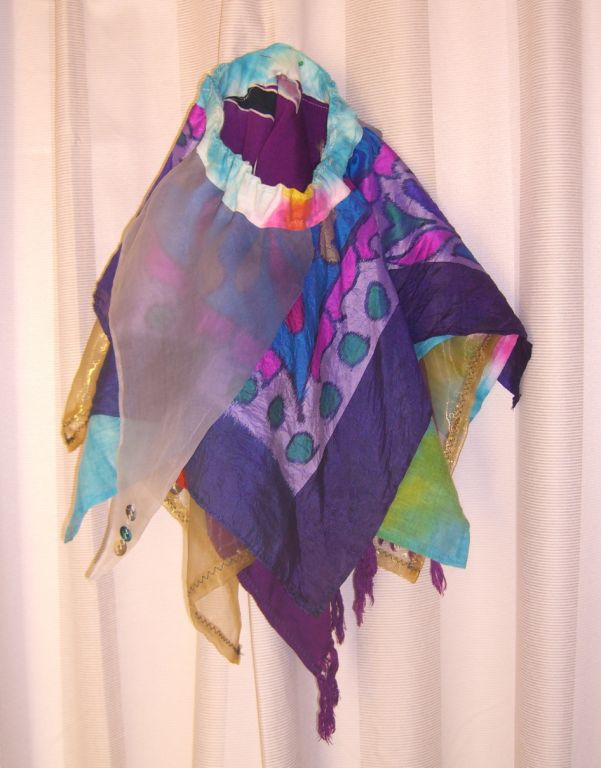 The gold coloured organza fabric which is used in both skirts is from a wrap/stole she made for a wedding, and the spotted lemon scarf was her mothers.
The pale blue narrow strips with sequins added to the ends, is from a scarf/large bow previously attached to a 1950's hat of her aunts.
As well as scarves, she is also using her collection of sarongs to make the skirts. Thanks for sharing these cool ideas Cathy, I will be looking out for scarves and things from op shops myself in future!
Some more tips from Cathy:
Firmly tack the inner circle (waist) before cutting around the template when using slippery fabrics.
Use bias cut strips to make the casing.
Have a look at my fairy skirt tutorial for more details on how to make this style of skirt.

For my next "princess" skirt for the nieces I made this ruffled one from a Barbie print curtain that my mother-in-law gave me.
The curtain looked brand new, it was from the in-laws new house in the bedroom that our boys sleep in when we stay, and has now been replaced. I just knew it would make an awesome fairy princess skirt.
I'm not saying which niece is getting this one but if any of my family are reading this they can probably guess. Shh!
It is made from three circular layers of different lengths, with gathered tulle strips sewn on the lining layers. "What?" you say, just like this:
I made a circular skirt pattern for the longest layer and marked the two shorter ones on it, then cut them all out.
This is what the cut pieces looked like:
Then I did the same with the lining layers. Yip, this skirt has six layers, which makes it very interesting to sew on elastic for the waist but more about that later.
I've been storing some pink tulle in my stash for years, waiting for a project just like this to use it all up. The tulle was strip cut into pieces then gathered into a ruffle.
I sewed the ruffled tulle strips onto each layer so the edge was aligned with the hem. For the hems I just used a zig-zag stitch, I really couldn't face properly hemming all that fabric! This picture shows the top layer with the ruffle stitched on.
I had to put this picture in because I just loved how the skirt layers looked on top of one another. For some reason it makes me think of a giant wedding cake!
Then came the elastic. I knew I would have a real problem trying to sew through 12 layers if I just folded the top over, so I joined the outer and the lining first, slipped the elastic on, then stitched a casing seam under the elastic to hold it up. Hope this makes sense, it is quite hard to explain.
All done. This is my favorite picture, the angle shows off the layers nicely.
Now I just have to make some kind of flower circlet headdress thing.

I was inspired by these gorgeous felt flowers made by Koala Brains
and it gave me an idea of how to use up all those leftover circles you get after cutting out circular/fairy skirts.

I will show you how I did mine, with 5 petals. My method is a little different, after having a play around I found this was the best way with larger circles, in flimsy fabrics. The size of flower you end up with depends on the size of your circle.
1. Find centre of circle by folding in half, then in half again. Mark with chalk on the wrong side of fabric.

2. Mark a line from the centre of circle to the outer edge.

3. Mark 4 more lines from the centre evenly spaced around the circle. This will involve some maths.
360 degrees divided by 5 petals = 72 degrees.
I used a protractor to measure 72 degrees between each line.

5. Cut thread at least 20cm longer than the width of your circle and thread onto a needle. Secure thread at the edge of circle and sew/tack along line to the centre.

6. Leave a tail approx 10cm long, or if you have 5 needles available to use, just leave the needle on.
7. Repeat with other 4 lines.

8. Pull threads one at a time and stitch to secure in the centre with a knot. Be careful not to tangle the needles!

9. Secure and cut threads, turn over to right side. Ta da!

Now you can have fun with them by cutting some circles smaller and layering the flowers.

Make a fairy hair clip/barrette by attaching a hair clip finding, or a brooch by attaching to a pin-back or…

I made a basic fairy skirt to wear to  a theme party about three years ago and enjoyed wearing it so much that I wished I had made one sooner instead of waiting for a occasion to wear one. Every day should be a fairy skirt day!
I would like to share the technique I used. It's a fairly quick and simple way of making a dress up skirt for children – or yourself – if you don't like shop bought ones.
You will need at least two layers of fabric cut into squares, roughly one metre squared will give you a length approximately to the knee on an adult. You can make the squares larger or smaller depending on how long you want the skirt to be and how wide your fabric is.
I used four layers, first – purple satin lining (goes on the bottom),  second-mauve nylon organza, third-purple  net/tulle, and fourth (top)-mauve organza with a sparkly star print.
You can use whatever type of fabric you want,but I would recommend using something non-see through on the bottom.
Layer the fabric on on your table or floor alternating between "square" position and "diamond".
Now you will need to cut a hole in the centre big enough to go over the hips.
Hip measurement plus ease divided by 6.28 will give you the radius measurement to draw a circle with a compass, eg. hip measurement of 94cm plus 3 cm ease (97cm) divided by 6.28 equals 15.45cm, get a compass and set it to 15.45cm, draw a circle, and the circumference should be about 97cm.
Use the circle as at template to centre over the squares/diamonds and cut hole.  Ok, back up a bit. Before you lay your squares out, fold each one in half, then in half again to find the centre. You can then use the dot from the compass in the middle of your template to line up with the corner that is the centre of the square and cut through four layers, using a quarter of the template. Or you can fold/cut your template into quarters and place on top edge to edge, then cut. Do this for each layer. If you are very brave, or have a fancy cutting tool you could do all the layers together. Pins are allowed – just don't hit them with scissors, they don't like it.
Make a casing for elastic by cutting a strip of fabric as long as the circumference of the circle plus 2cm seam allowance, approx 6cm wide, and stitch together. Cut elastic to fit waist measurement and join up, fold casing in half right sides out and attach to skirt with elastic inside.
This can be tricky, you can attach casing first if you want, leaving an opening for elastic and then thread the elastic through. Personally, I think that way is even more tricky, its up to you

You could also just use some matching ribbing or knit fabric for a waistband, as long as it doesn't stretch too much after sewing on to the skirt. We wouldn't want our fairy to have her skirt falling down!
Now add a pretty top, some wings and a wand and off you go.