My sewing, refashioning and upcycling projects revealed
You are currently browsing all posts tagged with applique
Remember this green jeans skirt I made? I'm using the cut off pant legs to make a bodice for a patchy fairy style dress.
Here's a look at the front part of the bodice before being completely sewn up.
You can see I've used the unpicked hem at the top of one panel for a bit of added textural detail and I've added some patchwork applique and lace.
The skirt base is cut from an old cotton sheet with randomly sized triangular strips of tricot attached to the bottom. I'm planning to have lots of layers and scrappy bits over the top. The bottom edge is shaped so that it will be a bit shorter at the front.
The dress lining is made from the same green tricot, the elastic straps are from a bra that I didn't fit properly

Now I'm building up the layers, firstly with some gathered tulle,
then with broderie anglaise from my tea dyed skirt, I cut it off just under the pockets and shaped it slightly to fit the shape of the skirt base.
Currently going well and progressing as planned, hooray!

I started with a pair of slightly faded green jeans, then made them into a skirt like this.
It was a bit plain so I decided to add some patchwork applique and lace
My favourite so far!
If you look at the back of the waistband you can see the original colour where I've pulled the tag off. It's now more of a turquoise green.
I am using the cut off pieces from the legs for another project which will be revealed soon.

I haven't posted for a while so here's some pics of this large bag I made ages ago for my mum.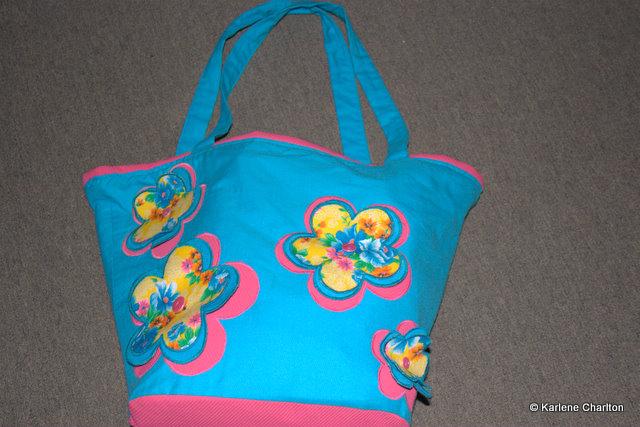 The bag base was originally cut smaller than this. I had a small scrap of floral fabric from Nana's stash that I wanted to use for the flower shapes, utilizing as much of the piece as possible. After building up the layers underneath the flowers grew in size and I knew I would have to re-cut the bag to fit them on without looking all squashed up.
This one is a photo of mum wearing it so you can see the scale.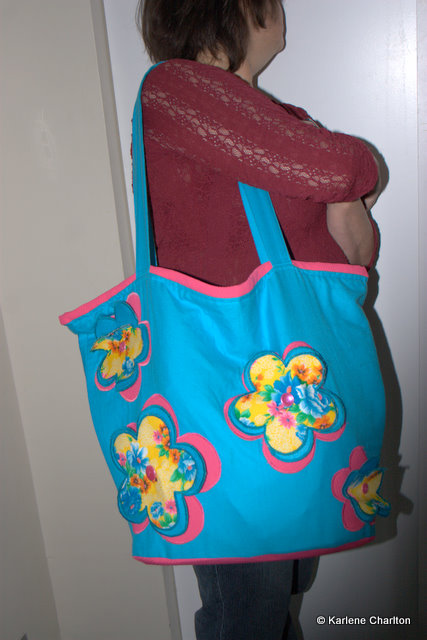 Yay, it's finished at last. I started making this quilt for my niece Rylee about 3 years ago, when my brother was wanting to pass on her outgrown clothes. I had made one for my son Ewan, and was quite keen to do another using pink girly clothing. It has turned out much bigger than it really needed to be. I think I had originally intended to make it 3 x 4 blocks, but somehow decided that 4 x 5 blocks would be a good idea…now it covers our king size bed!
I used a nine patch block with the central square cut in denim (from her jeans) to give some stability to the stretchier knits. Most of the denim squares had some kind of embroidery detail already on the fabric, so the plain ones got the applique treatment with different flower motifs. As with Ewan's quilt, all the knit fabrics are backed with fusible interfacing to stop them stretching as I sew. I machine quilted along the sashing strips running across the quilt, and did lots of hand quilted motifs all over the quilt using images from the fabrics as inspiration.
Here is Rylee receiving her quilt.
I think she liked it!

I made my elder son a custom sized sleeping bag when he was a toddler. My husband Keith and I used to camp quite a lot so we needed something for him to sleep in without spending too much hard earned cash.
It is designed to fit two self-inflating sleeping mats inside for padding, with a bit folded over at the top as a "pillow". Keith came up with this idea yet still insists on using it with the mats sticking out the top and having a real pillow on top!
The bottom piece is two layers gabardine for durability, (the mat fits in between these) the top is blue polar fleece and the lining is flannel.
I copied some fish motifs from my favorite duvet cover to make applique shapes from scraps of fleece. The seaweed shape was drawn freehand and reversed for the other side.
It was very tricky to get all the layers in their correct place when sewing up, and I had to unpick seams a few times

but the end result was worth it, and my son liked it very much.